Blog

Valentine's Day Special
With Valentine's Day just around the corner, we thought you might like to enjoy a special shipping promotion that we are offering for Valentine's Day. We can't always be with the ones we love or go to a restaurant to celebrate so we thought we would offer a shipping special of only $10 if you buy 3 of our bottles of wine.
Just click on the link above, order your wines, and we will do the rest. Make sure you used the correct checkout for the state you are in, otherwise it will say shipping isn't available when in fact it is. We have states listed that we ship to for your convenience.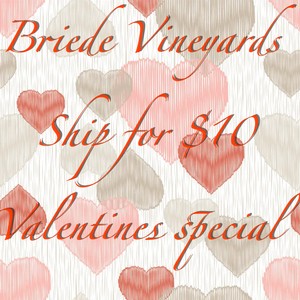 Cheers
Paul and Loretta Briede

TASTING ROOM CLOSED FOR VISITS. WE ARE ON A STAYCATION UNTIL JANUARY 29TH.
Like everything else with COVID, (a bit different) this means we are not physically in the tasting room (weather is not conducive to sitting outside anyway), however please call 540-664-2048 if you are interested in a reservation after January 29th. We will setup a time for you to come to the vineyard. As always we have online orders you can pickup in the tasting room and shipping is still available to your door.
Signup to our mailing list for updated information
HAPPY NEW YEAR!

Speed of Sound and Tannat
Wine Report for 2020
Bottling was scheduled today December 16th 2020 for our two new red wines, Speed of Sound, and Tannat, however due to the approaching winter storm we ended up having to bottle last night.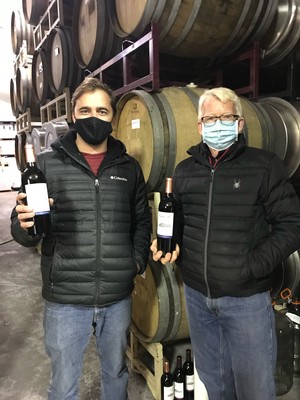 Pictured above is Nate Walsh our winemaker and Paul Briede with "Speed of Sound"
This wine was made to celebrate Paul's retirement and only 23 cases were made. It is a rare blend of Arandell and Tannat that we will make available to our club memebers only. This wine will be a series of blends each year with our Arandell grape and another varietial (50/50) producing for the first time anywhere, a blend of wine that is unique to the Briede Family Vineyards.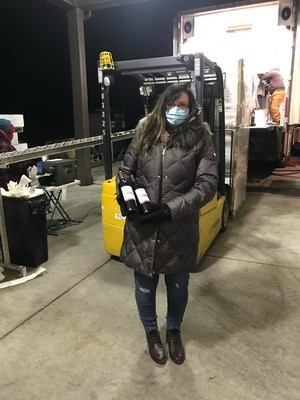 Loretta Briede is holding our new "Tannat 2019"
It was a fabulous year for reds. In a few months we will be releasing this wine for everyone to try. We are very excited about this big bold wine. This grape origins are in France in the shadows of the Pyreneese Mountains. Its only fitting that in France it produces Big, Bold, Rustic and Dry wines. We are excited to share with you Virginias expression of this grape.
Our white wines from 2020 (Cayuga White) was made into two batches. One is our "2020 Sparkling Winchester" which will be made into a champagne style once again. This process takes years to make. The interaction of the yeasts (on the lees) over time in the bottle is what produces this extraordinary wine. Some wines are worth waitng for.
The second batch is a lovely white wine with more of a buttery note. Most of our wines have been dry and crisp in our tasting room and we felt that a new style might round out our customers experience. We will monitor the wines development. We are not ruling out some "interesting" unique blend that we would love to try and share.
Since we grow Hybrid grapes, we are having lots of fun creating unique wines to blend or on their own, to see what the future might bring for Virginia.
COME JOIN US IN THIS JOURNEY FOR SOMETHING NEW!

Exciting things coming up!!!!!!
As we approach this holiday season, we have some very exciting things happening.
December 16th we will be bottling our new TANNAT 2019 which is lovely going into the bottle. It will need a bit of time to rest as this is a very big wine. 2019 was a fabulous year for reds and we certainly were no exception.
As most of you know, Paul Briede retired from a 35 year career with United Airlines. In celebration of this milestone event, we produced a very special reserve wine called "SPEED OF SOUND 2019" Which is a blend you won't find anywhere in the world. Arandell 50% and Tannat 50% We only produced 20 cases of this wine and it will be released to our club members first in the first quarter of 2021.
Our 2020 Cayuga field produced 4 tons of wonderful grapes which we are making two different wines. The traditonal Champange style wine once again "Sparkling Winchester" and a soft round style white wine. Our sparkling wine will not be ready for 3 years. However this spring, you will see our new white wine in the tasting room.
Arandell did not disappoint this year with about 3.2 tons of great grapes. We are making our flagship wine ARANDELL as this is such a hit in the tasting room. We may continue SPEED OF SOUND if we can find some wonderful TANNAT to blend with it. We will be changing up the Arandell in 2020 adding a tad of American oak just to give the wine a touch of complexity. We usually use only French Oak for our wines.
December 19th we are receiving some amazing cheeses from France. We will make up 11 charcuterie boards for $20 each, please let us know if you would like one. First come first serve. click on the following link. /Wines/Specials
Our special hours will be:
Closed Christmas Day
Open December 26th and 27th from 12pm-5pm
Open NEW YEARS EVE 12pm- 5pm and NEW YEARS DAY 12pm-5pm
We are planning so many wonderful events we think you will be interested in. Please check out our calendar for 2021. We are working very hard to make 2021 a great year for our customers.
As the vines sleep and winter descends upon us, we will be taking a much needed break starting January 2nd. Our winery and vineyard will be closed for vacation.
We are running specials online BUY3 get 10% off and of course our case discounts of 15% is always available.
Since we grow Hybrid Grapes, we are constantly putting them up against some major competition. This year we have two wines in the Virginia Governors Cup. Sparkling Winchester (2 1/2 years on the lees) and Arandell 2019. We are very excited about these two wines.
We wish all of you a wonderful holiday season and are so greatful for your support of our vineyard and what we do here at the Briede Famiy Vineayards. It's been an interesting year for us all, to say the least. We are developing a strong connection with our community and customers, sharing our passion for farming and making excellent wines.
CHEERS TO 2021 AND YOU!!!!

THE WORK ISN'T DONE YET!
Last night we were finishing up our vineyard operations.
A vital part of our sustainable agriculture is composting. We had about 18 truck loads of Horse Manure delivered to the vineyard last spring. We turned it and added a bit of Love. Yes, this is the heart beat of our vineyard. Some of the chemicals that we use to protect the grapes damage our soil. Like it or not, it happens. So to produce those amazing grapes, we need to make sure that the soil is retored.
Restored with what? Click the link below an learn more.
https://www.oursoil.org/restoring-long-term-soil-health-1809/
As you can see, there are benefits in composting. Grapes that ripen earlier can produce better fruit, better uptake of nutrients which means healthier plants. In Virginia, unlike California, moisture is a problem. Disease presure is considerable. So, to produce amazing wine, it only makes sense to shoot for healthy soil, which grows healthy plants, which grows beautiful fruit. Then.....it's up to the wine maker.
All of our grapes have had their dose of compost. Startch is building in roots enabling a good startup in the spring. They have spent 5 to 6 months of their life giving it all to these little baby clusters. By the time we harvest, they are ready for the Spa treatment (composting).
Our grapes are living plants and constantly changing. It's up to us to make sure they receive the care they need to contine producing excellent fruit.
In a few weeks they will be dormant and the necessary startup for spring of 2021 will all hedge on our vineyard practices in 2020.

HARVEST IS COMPLETE!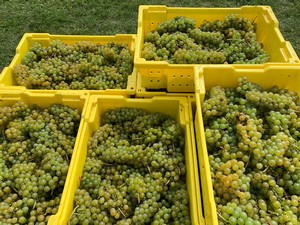 We had 3 harvests this year. Cayuga had over 4 tons of grapes which we divided about half into our "Sparkling Winchester 2020" and the other half into a still wine with some soft structure and good fruit.
Arandell produced 2.7 tons and we will continue to make this wine as there is very limited production of this wonderful soft red wine in the world.
The growing season was good. We were able to get our Cayuga white grapes in but not without some bird damage. For some reason the birds were going after the white grapes this year. Some believe it was due to our freezing temps early in the season limited the food supply. We were unable to get the netting that was necessary to truly protect the grapes (covid shipping delays) and therefore used a netting that was inferior to what is needed to truly protect the crop, We removed any damage to the clusters and pressed some wonderful grapes. It just took a bit longer to complete as it slows the vineyard crews down removing any unwanted berries. The weather was dry and we were able pick according to schedule.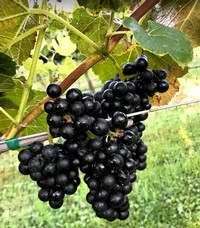 The red grape Arandell had 4 nights of frost covering only 123 growing days. That is short. Virginia normally has 160 growing days and Arandell ripens well within that limit. We were short a brix or two from ideal but were happy to get them off the vine as frost damage to the canopy was also a concern. This is why I love our Hybrid Grapes. They ripen so much quicker than Vinifera. During challenging times it's these grapes that shine.
Fermentation is going well and we are excited! We just checked in on our grapes at the wine maker and he is pleased. (We are very happy when our wine maker is happy) LOL Arandell was starting the fermentation process and looking good as well. All season we watch the plants produce small flowers and shoots developing into canes and clusters, going through verasion and blossming into the wonderful fruit that we are so proud of. From the time they bud break to harvest we nurture and protect these grapes striving to produce a product that our wine maker is excited to receive. It where great wine begins. So once this leaves our hands, there is a sigh of relief as our job as a grower is done. In an ideal situation we have delived to him the product that will many will come to enjoy. It's a passion, a love and a responsibily to our customers to make the best wines possible.

HARVEST 2020
We had great weather leading up to our harvest date of August 24th The weather was dry and we were very excited. We had about 3 ton of grapes on Cayuga White this year so we decided to split the crop. 1.7 tons were picked at a low sugar level as this is our future Sparking Winchester 2020 It will be a few years before we get to enjoy this wine, but no fear as we have 800 bottles waiting for finishing of the 2017 vintage. It will be lovely given the extra year to age. The remaining 1.5 tons will be made into still white wine. We are still on the fence, so to speak, about which style wine we will be adding to the tasting room.
We had a guest at our vineyard this year. Jill Rachesky Edlich, (The Womens Wine Club) She expressed interest in being a part of the harvest and was a wonderful help. The birds decided to try to get to the grapes before we did this year so netting had to go up to protect the crop. Jill and I spent hours just removing the damaged grapes that the birds destroyed.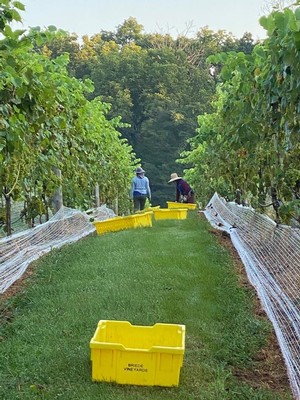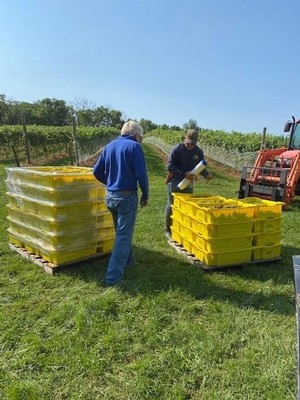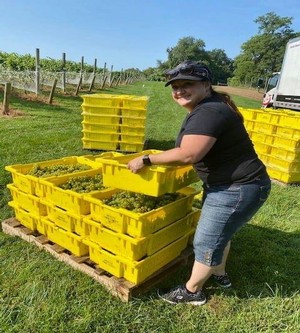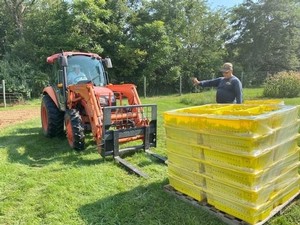 Our First Big Event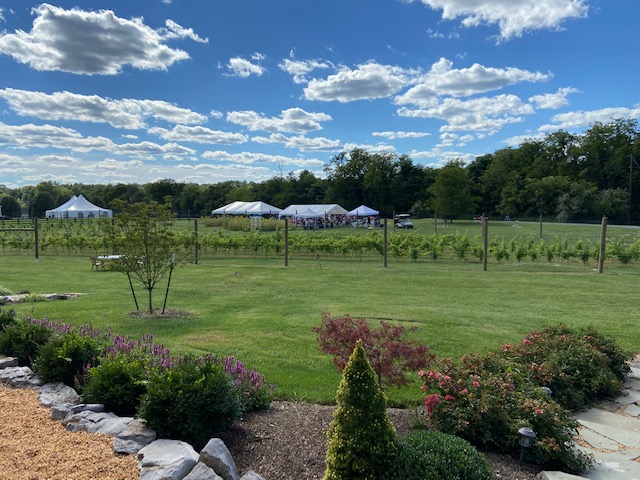 This photo was taken by Kirsten Langley, August 30, 2020 What a beautiful day it was. We had our Shrimp Boil that was just delicious. It was a sold out event!!! Thank you R Roots for always going above and beyond to make things perfect.
We are so blessed to have a group of wonderful supporters and friends in our wine club and as customers. We appreciate them all. I'm especially greatful to see our club members use our facility. I want to send a special Thank you to Rick and Phylis Guthrie (club member) who had their customer appreciation here with a focus on our facility and wines. It was our best revenue day since we have been open. Support with or without COVID is paramount for the success of any vineyard and we are no different. Small and boutique we hosted 150 guests and the weather was absolulty perfect. I am so greatful for all those who support this "Shrimp Boil" and the positive moments that filled our lives that day.
Upcoming Events
We have two very special events we think you will enjoy coming up
. Falconry September 5th between 3pm-4pm tickets can be purchase online for $35/pp Includes a glass of wine.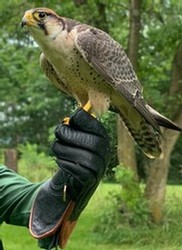 Past Executive Chef at Harris Teater will be making Lump Crab Cakes for our Fridays on the Terrace between 3pm and 8pm Friday September 18th. It comes with Gourmet Mac and Cheese, Coleslaw, and Chocolate Ganache Tarts all for $22/pp. Click on the link to pre-order. http://info@mybuddysnuts.com or click on the link below. /product/Lump-Crab-Cake-dinner
Cheers!
Paul and Loretta

VERAISON

In viticulture (grape-growing), veraison is the onset of ripening. The term is originally French (véraison / veʀɛzɔ̃), but has been adopted into English use. The official definition of veraison is "change of color of the grape berries". Veraison represents the transition from berry growth to berry ripening, and many changes in berry development occur at veraison.
wikapedia
This is a picture of Arandell starting veraison. It will take approximately 2 weeks to reach their deep purple color that is so beautiful in the wines that it makes. So far this year we have had a good season.
Cayuga White has huge clusters this year and a great crop. The sweetness is starting to enter the grapes. I would say it safe to say that some of these clusters weigh 1-2 lbs.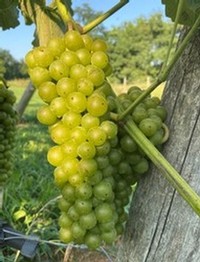 Paul Briede owner of the Briede Vineyards has fully retired from United Airlines. You will see him every weekend in the tasting room. Congratulations on an exemplary career!!!!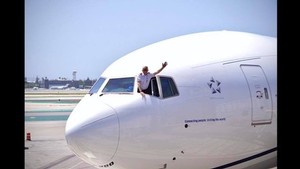 We have a fun packed month for you the next few weeks so please check out our events page on the webpage including a Falconry Experience early September and Fridays on the Terrace back for September starting the second week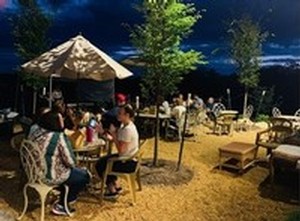 .
FRIDAYS ON THE TERRACE/R ROOTS CATERER/ENTERTAINMENT
If you haven't been out to the vineyard to try our Arandell 2019 you won't want to miss this Virginia Red Wine.
Hope to see you soon. Social Distancing in place.
Loretta & Paul Briede

We are very please to announce that Arandell is back in our tasting room. This wine has been such a success for us given it's unique flavor profile, so typical Arandell. We produced 124 case in 2019 and expect this wine to sell out like the 2017 vintage did. Arandell has a beautiful dark color, medium bodied and soft tannins. Notes of cherry, sandlewood and sweet tabacco grace the palate. It will be in bottle shock for a few weeks as it settles but we will still offer sales, just don't drink it right a way. If you have never had this unique grape, we don't think you will be disappointed when you try it. Even people who don't like red wines enjoy this one. Our vineyard is the only one to produce this lovely wine at 100% in 2017. We invite you to taste what a Hybrid grape can offer!


Hi Everyone
I'm so excited to share with you how things have been going for us
Paul has left the 777 due to cutbacks, so his new airplane will be the 787. Training will start soon and he is looking forward to it. It's a short 1 1/2 years before retirement when the vineyard will be our only job. He has managed the vineyard and we have some amazing vines ready to give us a beautiful 2020 vintage......or should I say.....so far so good. LOL
It's been pretty hot and dry here and our baby grapes (la Crescent and Marquette) are feeling the heat. We have hand watered them several times as we did not put an irrigation system in. We carry the hoses around making sure not to damage any as we wind them around the tiny shoots. Can't wait until they get a bit bigger. It's quite a job.
Loretta has been busy learning computers. Of all the things we do, it's probably the least I like about this endeavor. Practice and time seem to be the only cure.
The tasting room has been closed and from the looks of things, it will remain closed until the 6' seperation goes away. Having said that, we are OPEN conducting business. Our tours have increased and so has our turnout. We are operating still with restricted hours of Sat 1pm-6pm and Sun 1pm-5pm. We have entertainment and food peroidicly so be sure to check the calendar for upcoming events. There are some interesting ones. If you are not on our mailing list please signup so that you can receive information on the events.
We have tasted our new wines (Tannat) and (Tannat/Arandell Blend) and they were exceptional. I wanted to bottle them up and bring them to the tasting room but our wine maker said not until December. The complexity, depth, color, balance, aromatics and finish were outstanding. I can't wait for those two to be in the Tasting Room..
Arandell is being bottled on July 8th. We are very excited to have this wine back in the tasting room. It will be another month though, as wines go through "bottle shock" and they are truly out of wack so to speak. It takes a few weeks before they remember who they are. Arandell has been such a wonderful wine for us selling out of the 2017 vintage. We have also sold out of Cayuga white 2018, Verde 2017 and limited amounts of Sparkling Winchester 2017. We do have 800 more bottles that has remained on the lees for another year. Once that wine comes to the vineyard, we will let you know.
We are offering Flights, Glass and bottle sales now. No reserverations required on our regular hours, however, during the week we will accept reservations for tours only (At least 6 required since we are closed). We have ample room and spacing well above the requirment in many places.
I am excited to say that everyone has seemed to take this all in stride. It's been something unimaginable really.....but its here and we are all dealing with it. #vawinetogether
Thank you to all who have stayed with us and supported our vineyard by coming out and also making us feel a bit normal again.
All the best.
Paul and Loretta Briede