Blog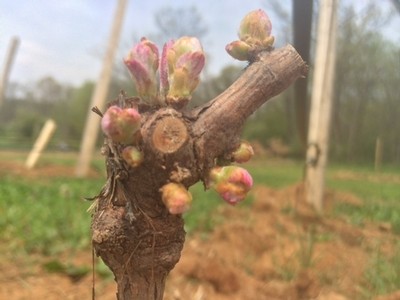 Crazy Weather
Pictured above is a young vine from a few years ago. You can see the delicate flowers that emerge from the center of the plant. This "bud" break is what we try to protect from cold weather.
We have had the craziest weather with differences up to 40 degrees between night and day. If we look around, you will see flowers and buds beginning to form on several species of plants.
It is way too early for our vineyard to be subjected to these warm days as we have been known to have freezing temperatures up to April. We have almost 2 months to get through before it's safe for our vines.
We are in the process of rough pruning our vines. This procedure leaves a longer cane than what is required. Grape vines bud break from the furthest tip and move inward. By leaving more cane the plant will start to bud from the outmost point (which is something we don't need) which preserves the buds we need to make wine. The outer buds are damaged then we just prune them away. This works if you have warm temperatures somewhat near when your last frost is, however, we are almost 2 months away from that date. We shall see how quickly cooler temperatures move back in.

BACK FROM VACATION!
Paul & I had a wonderful vacation filled with some much needed time off. We did miss our customers and we are so excited to be back visiting with everyone.
We have added some new products.
We are always looking for ways to improve our customers' experience here at Briede Vineyards. One of the ways we thought to improve your visit was to offer a bit more items you can enjoy with your wines.
Starting this weekend, we will have the following list of products for you to enjoy while available.
Boursin Cracked Pepper Cheese
Sicilian Marinated Olives
Pitted Kalamata Olives
Sliced Genoa Salami
Sliced Proscuitto
Mousse-Truffle
Gluten Free Crackers
Tangerine Spread
Spanish Cocktail Mix
Smoked Salmon
Firehook Artisian Crackers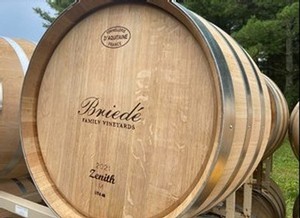 In the Cellar............upcoming bottlings.
We had the opportunity to taste how our wines were developing with our wine maker "Nate Walsh". We knew 2022 would be amazing and it certainly didn't disappoint us. We are making some very interesting wines that only a few vineyards produce. Below is a list of what you can expect to see in the coming months.
CHOCOLATE ARANDELL (yes you heard that right!) It's is a charmer! This has a richness of dark chocolate pairing with the Arandell Grape. A sweet wine. We expect this wine to fly off the shelves once it's released in April.
THE BLOOM 2022 (a bit less Merlot in this vintage, we liked a lighter style) This is our Dry Rose. Release date April.
SOLEIL D'OVEST ESTATE 2022 (La Crescent grape that is 100% estate grown. This is 1/2 the power of our 2019 vintage. We made this a bit more approachable. It is Dry but lots of fruit. It has a lovely nose and that wonderful complex apricot flavor. We think you will love this yummy wine. Release date April.
BRIES ESTATE 2022 (WOW! This wine took on an entirely different flavor component than previous years. Our grapes are older now and every year is different in the vineyard. This year Cayuga vines produced a delightful Sauvignon Blanc type wine with some light acidity and the grapefruit flavors indicative of that grape. Another Dry wine. Nothing changed in the wine making process so everything we have is attributed to vineyard practices. It's so interesting to see the changes from year to year. Release date April.
AGATHOSUNE ESTATE 2022 (This is an orange wine made from Cayuga Grapes. It is fantastic. No bitterness that many of these types of wines produce. This was the favorite punch down in the cellar we were told. The aromas smelled delicious and now we know why. July Release.
We wil be pouring in the Grand Tasting for the Winter Wine Weekend. Click here to learn more.
Paul will be speaking at our VVA (Virginia Vineyards Association) annual meeting this weekend on our Grape Arndell. It is one of the Hybrid Grapes that they are pouring and tasting at the "Varieties for a Low Spray Vineyard". We are excited to share this easy to grow grape in our vineyard with others.
Pleae check out our calendar of events scheduled this year at the vineyard. We are very excited to have Chef Kesha Harris onboard with us.
BRIEDE EVENTS FOR 2023 CLICK HERE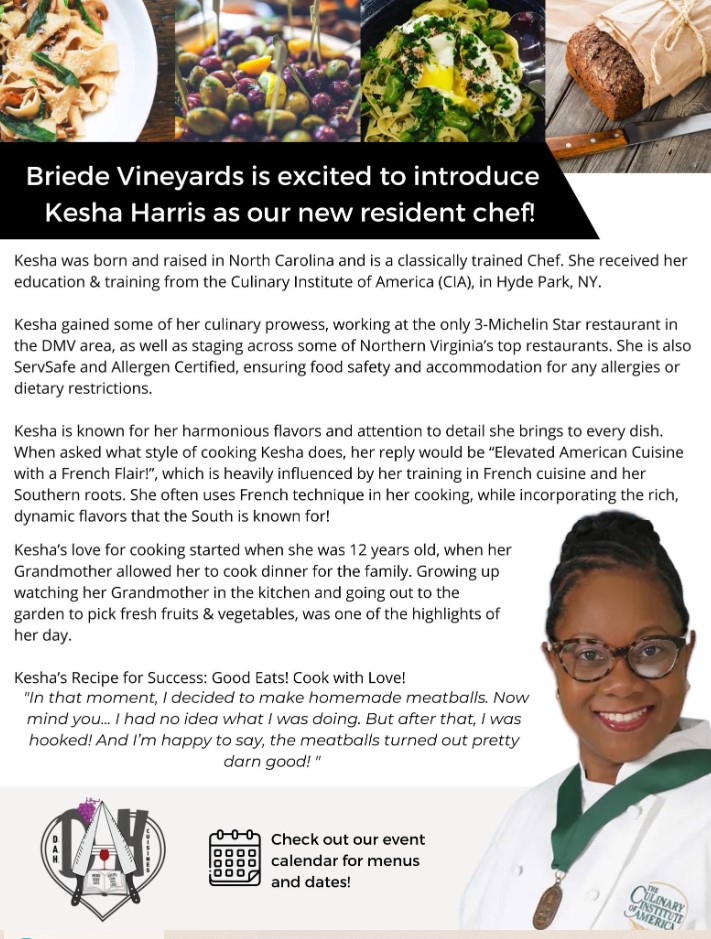 Cheers Paul & Loretta