Blog

HARVEST IS COMPLETE!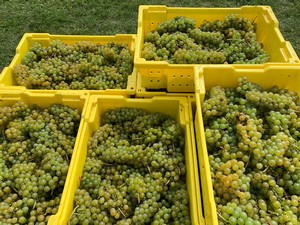 We had 3 harvests this year. Cayuga had over 4 tons of grapes which we divided about half into our "Sparkling Winchester 2020" and the other half into a still wine with some soft structure and good fruit.
Arandell produced 2.7 tons and we will continue to make this wine as there is very limited production of this wonderful soft red wine in the world.
The growing season was good. We were able to get our Cayuga white grapes in but not without some bird damage. For some reason the birds were going after the white grapes this year. Some believe it was due to our freezing temps early in the season limited the food supply. We were unable to get the netting that was necessary to truly protect the grapes (covid shipping delays) and therefore used a netting that was inferior to what is needed to truly protect the crop, We removed any damage to the clusters and pressed some wonderful grapes. It just took a bit longer to complete as it slows the vineyard crews down removing any unwanted berries. The weather was dry and we were able pick according to schedule.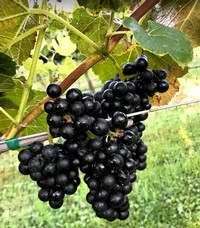 The red grape Arandell had 4 nights of frost covering only 123 growing days. That is short. Virginia normally has 160 growing days and Arandell ripens well within that limit. We were short a brix or two from ideal but were happy to get them off the vine as frost damage to the canopy was also a concern. This is why I love our Hybrid Grapes. They ripen so much quicker than Vinifera. During challenging times it's these grapes that shine.
Fermentation is going well and we are excited! We just checked in on our grapes at the wine maker and he is pleased. (We are very happy when our wine maker is happy) LOL Arandell was starting the fermentation process and looking good as well. All season we watch the plants produce small flowers and shoots developing into canes and clusters, going through verasion and blossming into the wonderful fruit that we are so proud of. From the time they bud break to harvest we nurture and protect these grapes striving to produce a product that our wine maker is excited to receive. It where great wine begins. So once this leaves our hands, there is a sigh of relief as our job as a grower is done. In an ideal situation we have delived to him the product that will many will come to enjoy. It's a passion, a love and a responsibily to our customers to make the best wines possible.