Blog

Valentine's Day Special
With Valentine's Day just around the corner, we thought you might like to enjoy a special shipping promotion that we are offering for Valentine's Day. We can't always be with the ones we love or go to a restaurant to celebrate so we thought we would offer a shipping special of only $10 if you buy 3 of our bottles of wine.
Just click on the link above, order your wines, and we will do the rest. Make sure you used the correct checkout for the state you are in, otherwise it will say shipping isn't available when in fact it is. We have states listed that we ship to for your convenience.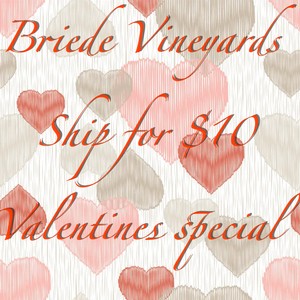 Cheers
Paul and Loretta Briede

TASTING ROOM CLOSED FOR VISITS. WE ARE ON A STAYCATION UNTIL JANUARY 29TH.
Like everything else with COVID, (a bit different) this means we are not physically in the tasting room (weather is not conducive to sitting outside anyway), however please call 540-664-2048 if you are interested in a reservation after January 29th. We will setup a time for you to come to the vineyard. As always we have online orders you can pickup in the tasting room and shipping is still available to your door.
Signup to our mailing list for updated information
HAPPY NEW YEAR!