Blog

HARVEST IS HERE! 2022!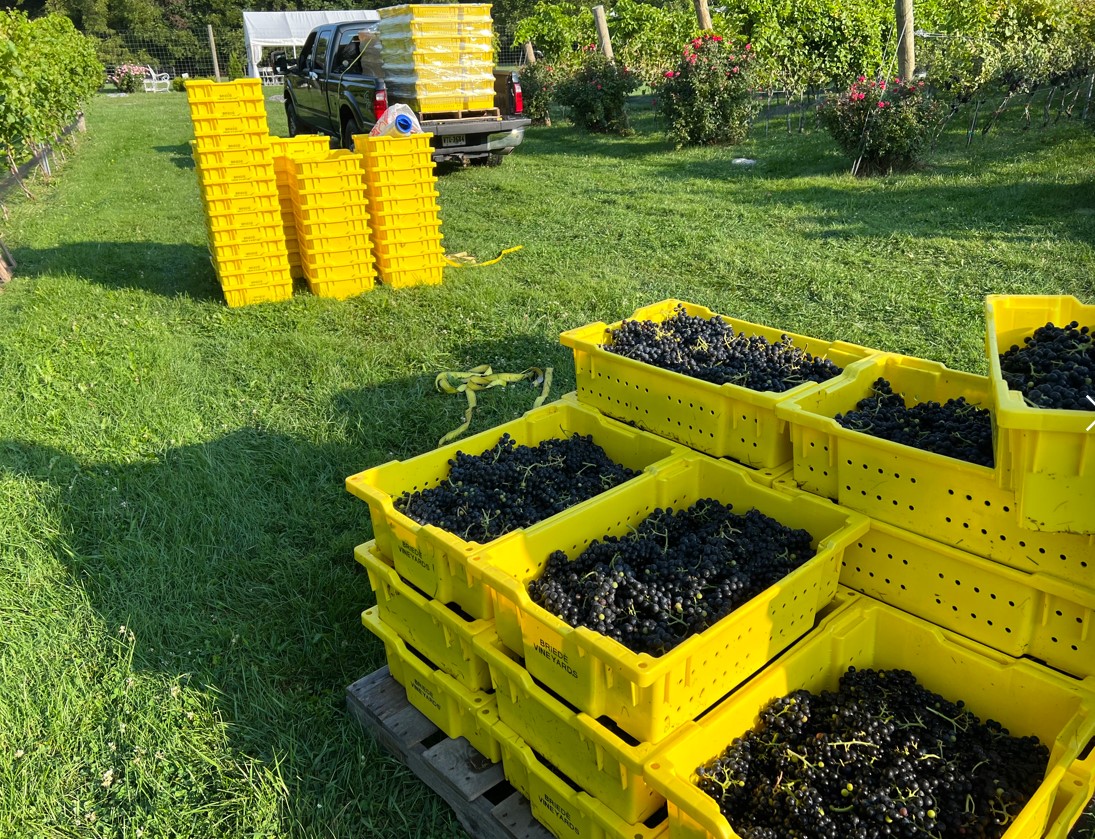 On the morning of August 25th we harvested a rare grape varietal in Virginia. It's called Marquette (a relative of Pinot Noir, only hybrid) It has had world attention because of the wines it can produce. We are so excited to have our first wine made from 100% varietal this year. We hope to create a Burgundy style wine. Stay tuned for this one.
Marquette wines are typically medium bodied, with aromas of cherries, blackcurrants and blackberries. In better examples, more complex aromas such as tobacco and leather may also be exhibited, with spicy pepper notes on the finish.
Initial trials suggests that Marquette responds well to oak treatments such as barrel aging and oak chipping.
Marquette is a blue/black-berried variety crossed in 1989 and introduced in 2006 by the University of Minnesota in the United States. Marquette is the cousin of Frontenac, a well-known French-American hybrid, and the grandson of Pinot Noir.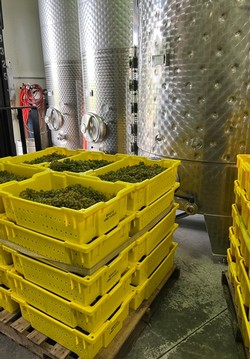 Another treat is our La Crescent Grape. The last time we made this wine it was grapes "shipped" to us to see what we could do with this wine. We feel these grapes under our vineyard management will produce something even more extraordinary. We will change the name as it will be a totally different wine. It's fruit forwardness is unprecedented.
La Crescent is a light-skinned hybrid variety developed by the University of Minnesota and released in 2002. It has a very complex ancestry, including Vitis vinifera, riparia, rupestris, labrusca and aestivalis. Saint-Pepin and a Muscat Hamburg crossing feature among its progenitors.
Named after a small town in Minnesota State, La Crescent was bred to resist extremely cold climates. It is also grown in the northern states of New York and Vermont. Like most hybrids, La Crescent has admirable resistance to most diseases, although it can be susceptible to peronospora (downy mildew) in humid climates.
La Crescent is ideal for the production of off-dry and semi-sweet wines and is apt to retain some acidity, which balances this style. It is a relatively aromatic variety and exhibits flavors of stonefruits, such as peach, citrus fruits or even tropical flavors of pineapple.
Next week around the first week of September we will be harvesting, pinot Meunier, Chardonnay, Pinot Noir, and some Cayuga to make our SPARKLING WINCHESTER 2022. We are shooting for a Rose again, as our 2021 did not throw as much color as we had liked. Don't let that fool you as the flavor is there! Our 2021 vintage we have very high hopes for.
Our Hybrid Grapes have proven in a wet season to delivery some extraordinary clean fruit. This is what seperates Hybrid grapes from French Varietals. A season of over 10 inches of rain causes issues with Downy Mildew on French Varietals.
We have seen some Downy in the vineyard, but very limited.
We are estimating a 7 ton load for our Cayuga White and Arandell (our number one wine) is looking FANTASTIC! with a yeild around 4 tons. The fruit quality is lovely.
Stay tuned as we harvest we will let you know how things are going. We only have 2 more pickings to go, so do your "no rain" dance as we complete our HARVEST 2022!
Cheers to a great harvest!