Blog

Speed of Sound and Tannat
Wine Report for 2020
Bottling was scheduled today December 16th 2020 for our two new red wines, Speed of Sound, and Tannat, however due to the approaching winter storm we ended up having to bottle last night.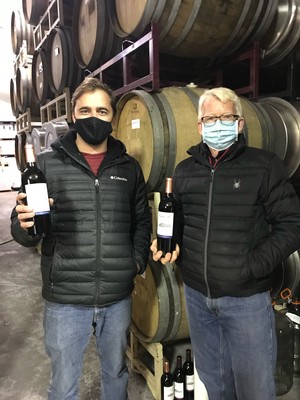 Pictured above is Nate Walsh our winemaker and Paul Briede with "Speed of Sound"
This wine was made to celebrate Paul's retirement and only 23 cases were made. It is a rare blend of Arandell and Tannat that we will make available to our club memebers only. This wine will be a series of blends each year with our Arandell grape and another varietial (50/50) producing for the first time anywhere, a blend of wine that is unique to the Briede Family Vineyards.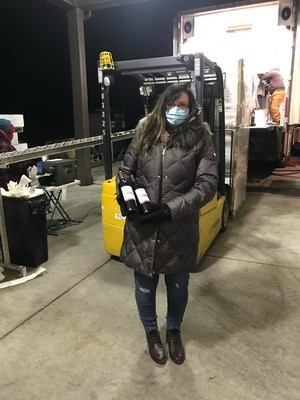 Loretta Briede is holding our new "Tannat 2019"
It was a fabulous year for reds. In a few months we will be releasing this wine for everyone to try. We are very excited about this big bold wine. This grape origins are in France in the shadows of the Pyreneese Mountains. Its only fitting that in France it produces Big, Bold, Rustic and Dry wines. We are excited to share with you Virginias expression of this grape.
Our white wines from 2020 (Cayuga White) was made into two batches. One is our "2020 Sparkling Winchester" which will be made into a champagne style once again. This process takes years to make. The interaction of the yeasts (on the lees) over time in the bottle is what produces this extraordinary wine. Some wines are worth waitng for.
The second batch is a lovely white wine with more of a buttery note. Most of our wines have been dry and crisp in our tasting room and we felt that a new style might round out our customers experience. We will monitor the wines development. We are not ruling out some "interesting" unique blend that we would love to try and share.
Since we grow Hybrid grapes, we are having lots of fun creating unique wines to blend or on their own, to see what the future might bring for Virginia.
COME JOIN US IN THIS JOURNEY FOR SOMETHING NEW!

Exciting things coming up!!!!!!
As we approach this holiday season, we have some very exciting things happening.
December 16th we will be bottling our new TANNAT 2019 which is lovely going into the bottle. It will need a bit of time to rest as this is a very big wine. 2019 was a fabulous year for reds and we certainly were no exception.
As most of you know, Paul Briede retired from a 35 year career with United Airlines. In celebration of this milestone event, we produced a very special reserve wine called "SPEED OF SOUND 2019" Which is a blend you won't find anywhere in the world. Arandell 50% and Tannat 50% We only produced 20 cases of this wine and it will be released to our club members first in the first quarter of 2021.
Our 2020 Cayuga field produced 4 tons of wonderful grapes which we are making two different wines. The traditonal Champange style wine once again "Sparkling Winchester" and a soft round style white wine. Our sparkling wine will not be ready for 3 years. However this spring, you will see our new white wine in the tasting room.
Arandell did not disappoint this year with about 3.2 tons of great grapes. We are making our flagship wine ARANDELL as this is such a hit in the tasting room. We may continue SPEED OF SOUND if we can find some wonderful TANNAT to blend with it. We will be changing up the Arandell in 2020 adding a tad of American oak just to give the wine a touch of complexity. We usually use only French Oak for our wines.
December 19th we are receiving some amazing cheeses from France. We will make up 11 charcuterie boards for $20 each, please let us know if you would like one. First come first serve. click on the following link. /Wines/Specials
Our special hours will be:
Closed Christmas Day
Open December 26th and 27th from 12pm-5pm
Open NEW YEARS EVE 12pm- 5pm and NEW YEARS DAY 12pm-5pm
We are planning so many wonderful events we think you will be interested in. Please check out our calendar for 2021. We are working very hard to make 2021 a great year for our customers.
As the vines sleep and winter descends upon us, we will be taking a much needed break starting January 2nd. Our winery and vineyard will be closed for vacation.
We are running specials online BUY3 get 10% off and of course our case discounts of 15% is always available.
Since we grow Hybrid Grapes, we are constantly putting them up against some major competition. This year we have two wines in the Virginia Governors Cup. Sparkling Winchester (2 1/2 years on the lees) and Arandell 2019. We are very excited about these two wines.
We wish all of you a wonderful holiday season and are so greatful for your support of our vineyard and what we do here at the Briede Famiy Vineayards. It's been an interesting year for us all, to say the least. We are developing a strong connection with our community and customers, sharing our passion for farming and making excellent wines.
CHEERS TO 2021 AND YOU!!!!