December 15, 2020 | Loretta Briede
Bottling of Tannat and Speed of Sound / Wine Report 2020
Speed of Sound and Tannat
Wine Report for 2020
Bottling was scheduled today December 16th 2020 for our two new red wines, Speed of Sound, and Tannat, however due to the approaching winter storm we ended up having to bottle last night.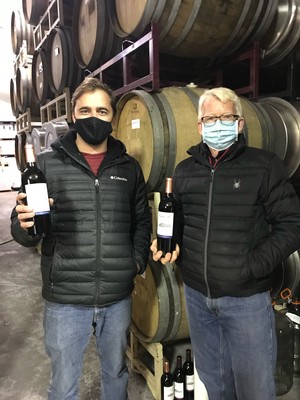 Pictured above is Nate Walsh our winemaker and Paul Briede with "Speed of Sound"
This wine was made to celebrate Paul's retirement and only 23 cases were made. It is a rare blend of Arandell and Tannat that we will make available to our club memebers only. This wine will be a series of blends each year with our Arandell grape and another varietial (50/50) producing for the first time anywhere, a blend of wine that is unique to the Briede Family Vineyards.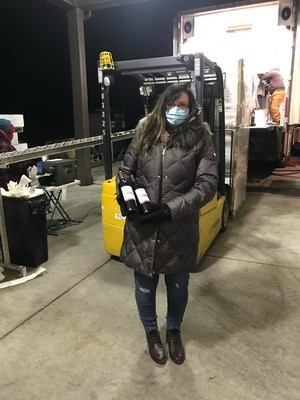 Loretta Briede is holding our new "Tannat 2019"
It was a fabulous year for reds. In a few months we will be releasing this wine for everyone to try. We are very excited about this big bold wine. This grape origins are in France in the shadows of the Pyreneese Mountains. Its only fitting that in France it produces Big, Bold, Rustic and Dry wines. We are excited to share with you Virginias expression of this grape.
Our white wines from 2020 (Cayuga White) was made into two batches. One is our "2020 Sparkling Winchester" which will be made into a champagne style once again. This process takes years to make. The interaction of the yeasts (on the lees) over time in the bottle is what produces this extraordinary wine. Some wines are worth waitng for.
The second batch is a lovely white wine with more of a buttery note. Most of our wines have been dry and crisp in our tasting room and we felt that a new style might round out our customers experience. We will monitor the wines development. We are not ruling out some "interesting" unique blend that we would love to try and share.
Since we grow Hybrid grapes, we are having lots of fun creating unique wines to blend or on their own, to see what the future might bring for Virginia.
COME JOIN US IN THIS JOURNEY FOR SOMETHING NEW!
Comments