January 24, 2021 | Loretta Briede
Valentine's Day Special
Valentine's Day Special
With Valentine's Day just around the corner, we thought you might like to enjoy a special shipping promotion that we are offering for Valentine's Day. We can't always be with the ones we love or go to a restaurant to celebrate so we thought we would offer a shipping special of only $10 if you buy 3 of our bottles of wine.
Just click on the link above, order your wines, and we will do the rest. Make sure you used the correct checkout for the state you are in, otherwise it will say shipping isn't available when in fact it is. We have states listed that we ship to for your convenience.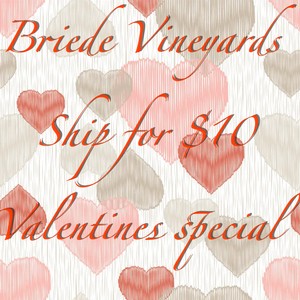 Cheers
Paul and Loretta Briede
Comments
Joe Miller
@ Nov 3, 2021 at 6:01 AM
So with both changing the pace and gears of working towards that project simply target to kill the two birds with the single stone no matter if it kills you if you have some skin left in the game.
Justin Roy
@ Nov 6, 2021 at 10:00 PM
Valentine's day special, The Walgreens pharmacy store is giving special offers from the companies to their lovable customers. They are conducting the customer satisfaction survey at walgreenslistens.care website to collect the customer's feedback to improve the company services.