February 10, 2021 | Loretta Briede
OUTLOOK FOR 2021
Outlook for 2021
We are exited about our 2021 season and while 2020 was a terrible year, our grapes knew nothing about the pandemic and produced some wonderful wines that will be release soon.
Yesterday we spent time with our wine maker Nate Walsh to discuss our furture production and to taste our wines that will be released this spring.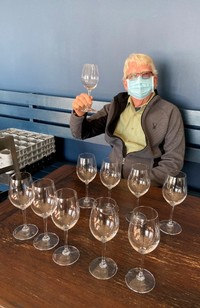 Two new wines will be offered this spring. Plie' which is a lovely new style wine, softer and rounder than most of what we have produced in the past. We have taken Cayuga and added a touch of Viognier. The Viognier grape brings a tangerine, honeysuckle creamer version with hints of nutmet and spices. The Cayuga grape is light fruity, crisp dry wine that is very palatable.
Another addition is a Rose'. We called it "The Bloom" in celebration of our wonderful event here in Winchester, Apple Blossom. We have only made 60 cases of this wine. It's is crisp and light with hints of strawberry. It will have the apple blossom colors of pink and green on the bottle. This wine is 90% cayuga and 10% melot. Merlot picks up the terrior pretty readly, so it will impart many of the characteristic of where it's grown. We have added this mostly for color.
Arandell 2020 is in some American Oak trying a new twist to our standard flavor profile. It's fun to be a pioneer in the advancement of this wonderful grape. The bottling is scheduled for the fall.
This years crop will be a move to the future while trying to meet our current needs. We are making two wines that we will not see for a few years. A new "Sparkling Winchester Rose' that will be made in the traditional Champagne Style. It will lay on the lees for 3 years. We love the tannat grape and have purchsed more fruit to be included in our 2021 wines. A larger production of "Speed of Sound" will be made as we loved the blend of Tannat and Arandell. We only produced 22 cases for our club members and we wanted to make more of this for the tasting room.
New to us, is the production of a Port. We are making this with the Tannat grape and will be adding brandy to this but to make a quality port, time is necessary, so we will not see this wine for many years. It's an investment into our furture and the diversity of what we offer our customer. Wines take time and being a new vineyard, 9 years as a grower, it's very difficult to balance the cash flow and trying to hold on to wines until they are at their best. Most of what sell is young wines, as to date, nothing lasts more than 2 years in our tasting room. While very drinkable now, they will only get better.
We are truly excited about our upoming growing season with the addition of new style wines. But that's not all we have instore for you! Currently we planning the addition of a new Pavilion adding a place that is covered with additional seating. The structure will be a concrete floor, covered nestled in the woods with a vew of our back vineyard and our front vineyard. Construction will begin in April. We will be posting pictures once this gets underway. We felt this was a necessary due to the limiting seating when it rains and in the hot sun. It should provide a comfortable place to sit and enjoy our wines with a lovely view of the vineyards.
Thanks for visiting our blog page and we are looking forward to our 2021 season. Hope to see you!
Cheers.
Paul & Loretta
Comments
isaackach4455
@ Jun 6, 2022 at 12:41 PM
It's on several factors.
petitambre378
@ Jun 30, 2022 at 2:49 PM
The millions of individuals like it.
johntremblay98881
@ Jul 5, 2022 at 4:25 PM
It's a better understanding.
hervedew9561
@ Jul 5, 2022 at 7:28 PM
I love videos to your weblog.
antonincouture8
@ Jul 10, 2022 at 2:45 AM
We will be checking back soon.
jaxongaber8266
@ Jul 26, 2022 at 12:10 PM
We have the similar evaluation.
Ricardo Powell
@ Aug 17, 2022 at 4:00 AM
well I simply come to most of the bibliographical references and I think this website needs sort of what I was seeking to write my assignment about the impact of this wastewater.
Places to Visit in Ccuador
@ Nov 22, 2022 at 7:29 AM
This is a very informative article. I was looking for these things and here I found it!
Emma Brown
@ Dec 7, 2022 at 10:55 PM
This article is really informative. These items were what I was seeking for, and I have them right here!
Commenting has been turned off.