August 31, 2020 | Loretta Briede
Harvest
HARVEST 2020
We had great weather leading up to our harvest date of August 24th The weather was dry and we were very excited. We had about 3 ton of grapes on Cayuga White this year so we decided to split the crop. 1.7 tons were picked at a low sugar level as this is our future Sparking Winchester 2020 It will be a few years before we get to enjoy this wine, but no fear as we have 800 bottles waiting for finishing of the 2017 vintage. It will be lovely given the extra year to age. The remaining 1.5 tons will be made into still white wine. We are still on the fence, so to speak, about which style wine we will be adding to the tasting room.
We had a guest at our vineyard this year. Jill Rachesky Edlich, (The Womens Wine Club) She expressed interest in being a part of the harvest and was a wonderful help. The birds decided to try to get to the grapes before we did this year so netting had to go up to protect the crop. Jill and I spent hours just removing the damaged grapes that the birds destroyed.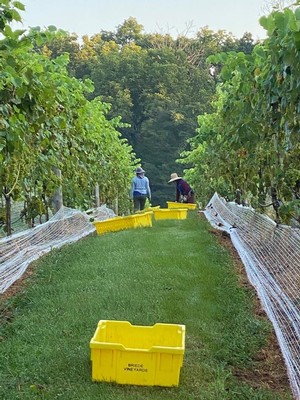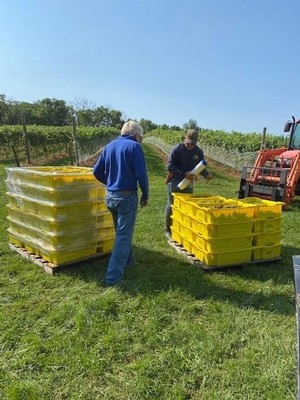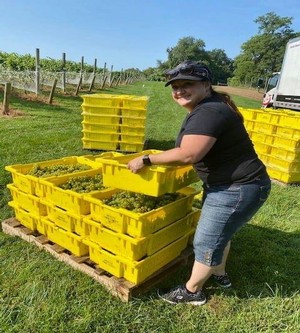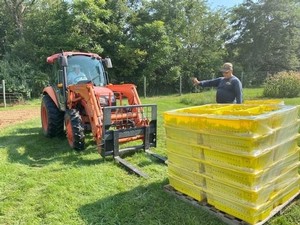 Our First Big Event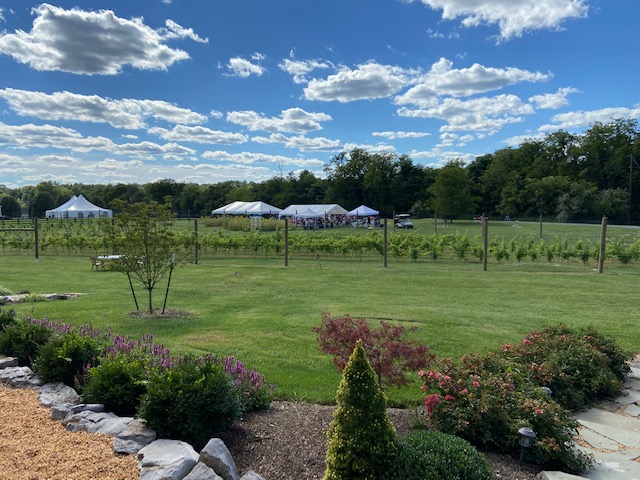 This photo was taken by Kirsten Langley, August 30, 2020 What a beautiful day it was. We had our Shrimp Boil that was just delicious. It was a sold out event!!! Thank you R Roots for always going above and beyond to make things perfect.
We are so blessed to have a group of wonderful supporters and friends in our wine club and as customers. We appreciate them all. I'm especially greatful to see our club members use our facility. I want to send a special Thank you to Rick and Phylis Guthrie (club member) who had their customer appreciation here with a focus on our facility and wines. It was our best revenue day since we have been open. Support with or without COVID is paramount for the success of any vineyard and we are no different. Small and boutique we hosted 150 guests and the weather was absolulty perfect. I am so greatful for all those who support this "Shrimp Boil" and the positive moments that filled our lives that day.
Upcoming Events
We have two very special events we think you will enjoy coming up
. Falconry September 5th between 3pm-4pm tickets can be purchase online for $35/pp Includes a glass of wine.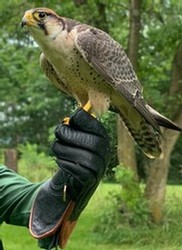 Past Executive Chef at Harris Teater will be making Lump Crab Cakes for our Fridays on the Terrace between 3pm and 8pm Friday September 18th. It comes with Gourmet Mac and Cheese, Coleslaw, and Chocolate Ganache Tarts all for $22/pp. Click on the link to pre-order. http://info@mybuddysnuts.com or click on the link below. /product/Lump-Crab-Cake-dinner
Cheers!
Paul and Loretta
Comments
Gorge
@ Sep 12, 2020 at 2:48 AM
Amazing post man...I love it.
Commenting has been turned off.