Thai Beef Salad Recipe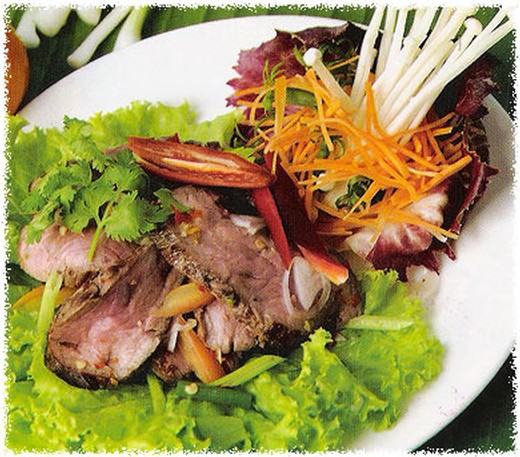 Recipe Date:
August 31, 2020
Measurements:
Imperial (US)
1 lb. decent quality steak, sirloin or other 10 (or more) fresh hot Thai chili peppers (prik kee noo), sliced crosswise very thin (or substitute jalapenos or serrano chilies, minced) 2 large cloves garlic, sliced crosswise very thin 1 tbsp sugar 5 tbsp Thai fish sauce (Golden Boy brand is recommended) 5 tbsp fresh squeezed lime juice (1 medium size lime) 1 head Bibb or Boston; or 1 heart of Romaine lettuce 12 sprigs fresh mint (optional), remove the leaves and discard the stems 1/2 hothouse cucumber or 1 small cucumber (seeds removed), peeled and sliced thin 2 to 3 shallots, sliced crosswise very thin or 1 small red onion, sliced very thin 3 or 4 sprigs cilantro, stems removed
Directions
Grill or broil the steak until medium-rare. Trim off any fat. Cool and slice thin, into pieces approx. 2 inches across and 1/8 inch thick.
Mix garlic, chiles, fish sauce, lime juice, and sugar in a small bowl. Add the sliced meat and toss with the cucumbers and shallots. Taste and add more fish sauce if desired.
Make a bed of the lettuce on a serving plate. Place the beef on top. Garnish with cilantro. Serves 2 to 3 as an appetizer or as part of a meal.