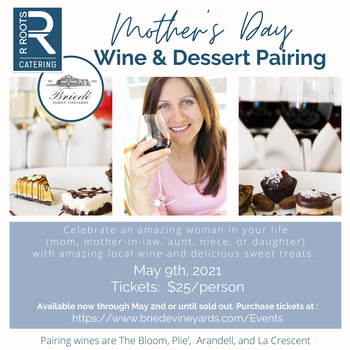 Mother's Day Wine Pairing
We are exited to pair 4 of our wines with R Roots Catering Desserts!.
La Crescent (a party on in it's self) we are pairing this with Limoncello Cheesecake cups.
Arandell (Silver Medal winner at the Governor's Cup), pairing Dark Chocolate Cherry Almond Cookies
Plie' (our newest white wine, elegant and fruit forward), pairing Peach Melba Parfait
The Bloom (crisp and hints of strawberries) pairing Deconstructed Chocolate Covered Strawberries (strawberry mousse inside a chocolate bowl)
Please get your tickets purchased by May 2nd by the end of the day.