Dinner celebrating HARVEST
| | |
| --- | --- |
| Date: | Sat, Sep 17, 2022 |
| Time | 6:00 PM to 8:30 PM |
| Venue: | Briede Family Vineyards 450 Green Spring Road, Winchester, VA 22603 |
| Contact: | Loretta Briede |
| Phone: | 540 664-2048 |
| Email: | loretta@Briedevineyards.coom |
Harvest Dinner Celebration
September 17th, 2022 Seating at 6pm
Ticket Sales Close September 13th
$125/per person limited to 25 seats Club Members $106.25
Click here to purchase your tickets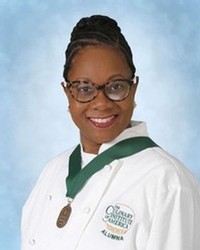 MENU
Champagne
1st Course-Lavender-Balsamic Arugula Salad
(w/lavender & aged balsamic; freshly shaved Parmesan-Reggiano)
BFV The Bloom 2021
2nd Course -Shrimp & Mushroom Risotto
(poached shrimp, caramelized mushrooms, shaved parmesan-Reggiano, mushroom-
sage EVOO)
BFV Tous Les Jours 2021
3rd Main Course- Chicken Fricassee served w/Haricots Verts (shallot, garlic & lemon) &
Fingerling Potatoes (duck fat, rosemary, smoked sea salt, chives)
BFV Tannat 2019
4th Dessert Course- Red Wine Poached Anju Pears
(Deconstructed Anju Pear-Cranberry Cobbler Crumble
(red wine poached Anju pear, spiced pecans, quenelle of
vanilla bean ice cream, mint-basil syrup)
Brachetto (sweet wine)
D.A.H. Cuisines®️ LLC, owned and operated by Chef Kesha Harris, is a catering and meal delivery service company, whose style of cooking can be described as elevated American Cuisine with a French flair, utilizing French technique. However, their food preparation services span across many various types of cuisines and cooking styles!
Chef Kesha had a passion for cooking as a young girl and in 2017, she opened her own catering business. In the Spring of 2018, she left for Upstate New York, to attend the very prestigious Culinary Institute of America (CIA) in Hyde Park, where she earned her Culinary Arts degree. During her tenure at the CIA, she completed a three-month externship at 3-Michelin Star, 'The Inn At Little Washington', in Washington, Virginia. Chef Kesha is Classically-Trained, ServSafe and Allergen certified. She was also recently named 'Alignable's 2022 Business Person of the Year' in Winchester, Virginia.
D.A.H. Cuisines specializes in catering weddings, small dinner parties, private and corporate events. As well, they offer bi-weekly meal delivery and family meal planning & preparation services, in various counties across the Virginia region.
Kimberly Burke will be playing for this special HARVEST DINNER