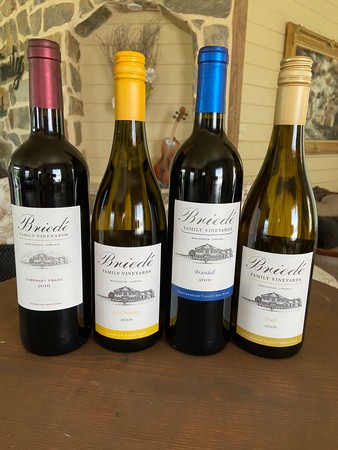 Sampler
Don't know our wines? Here is a sample pack for you to try! FREE SHIPPING!
Arandell- Silver Medal winner at the 2020 International Sommelier Challenge in California. This is a very unique wine. We were the only producers of this grape variety in 2017 and today very limited production is known worldwide. Arandell was developed by Cornell University to be the most disease resistance grape out there. With us in an Organic program, it was very important to be sure we had a grape that needed little or no spraying. With our hearts into sustainable agriculture this was our first choice. So we purchased 750 of these plants in 2013 making us one of the oldest commercial vineyards that grow this grape. It's been fun to stump the wine expert, as in a blind tasting they never get it. LOL But that's not the only reason that make this grape special, it's its ability to be Virginia red with soft tannins. It ripens early, bud breaks late and can set the stage for wonderful grapes to go to your winemaker. Grapes that have fully ripened and met the chemical structure to make excellent wines. Arandell 2017 was put before a tasting group in Israel to determine what grapes would be grown there......Arandell 2017 made the cut. We were so excited to be a part of that. We are not stopping there of course.....this wine will be sent to Janice Robinson in England for her review, as she publishes a book that covers all the grapes of the world. Arandell she had never tried. 2019 Arandell exhibits notes of cherry, sandlewood and sweeet tabacco of course you may find something else. This wine will not disappoint and I think you will be pleasantly surprise at how nice a hybrid red grape grown in VA can be. After all, we have yet to determine all the wonderful grapes that could be called "VIRGINIAN".
CabFranc- This is a grape most of you know and for those of you who love it, this one will not disappoint you. We had to go to Lodi California to get this grapes as in 2018 we lost our entire crop to Black Rot. It was not a very good year for us. We wanted to make it Virginian, so we added a bit of local Chambourcin and Merlot to blend this into a lovely CabFranc. Some say one of the best in the state.
La Crescent- This is one of my favorite grapes as it has so much aroma it will make you go "Wow" The color is medium yellow and has wonderful clarity. This is not your buttery chardonnay......it's bold, in your face and tart. It has a hint of salt that it leaves making it an excellent choice for Thai food. Not many wines can stand up to the strong flavor of Nuk Mum, lime and sweet that Thai food offers but this one will not get lost in the process......I promise you! It's also great with strong cheeses. The floral nose is fabulous. We like this grape so much we added it to our vineyard expansion. This wine is like nothing you have ever tasted. It's a hybrid grape that is powerful.
Duet- Duet is a lovely light wine. It's very refreshing. We grew the Cayuga grape on our back vineyard and then blended it with some Vidal Blanc from Sunset hills to give you this easy drinking blend. It has some fruit forwardness and crisp.......the rest of the journey is yours!