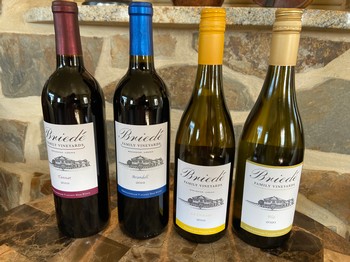 Sampler
Don't know our wines? Here is a sample pack for you to try! FREE SHIPPING!
Arandell- Silver Medal winner at the 2020 International Sommelier Challenge in California. This is a very unique wine. We were the only producers of this grape variety in 2017 and today very limited production is known worldwide.
La Crescent- This is one of my favorite grapes as it has so much aroma it will make you go "Wow" The color is medium yellow and has wonderful clarity. This is not your buttery chardonnay...... it's bold, in your face and tart. It has a hint of salt that it leaves making it an excellent choice for Thai food. Not many wines can stand up to the strong flavor of Nuk Mum, lime and sweet that Thai food offers but this one will not get lost in the process...... I promise you! It's also great with strong cheeses. The floral nose is fabulous. We like this grape so much we added it to our vineyard expansion. This wine is like nothing you have ever tasted. It's a hybrid grape that is powerful.
Tannat-The Big Reds. If you like the big red wines, this is lovely. We added a tad of Merlot to make this wine approachable at an early age. Lovely and soft. This wine will only gain complexity if you lay it down for a few years. It has a lovely structure with a fair amount of tannins.
Plie'- This is a lovely soft well balanced wine. It has a likeness to French white Burgundy's but it's not. Cayuga grapes with a tad of Viognier. Very light but lots of wonderful aromatics and flavor. There is a level of complexity that will only get better. This is a very young wine.